What others say about Arnold,
Arnold is a man of his word and he practices what he preaches. I'm the president an CEO of the radio station RTV, it is an honor to have this program in our radio station and we highly recommended him.
Mrs. Jerome Michel - President & CEO R.T.V
Arnold Garcon he is one of the best client we have in the radio, he has a program call; The voice of the gospel. Arnold is trustworthy, honest man, and man of faith. we esteem him a lot and speak very highly of him.
Mezidor Gerard Luly - General Manager Radio Vision 2000
Arnold is a good steward of God's money. Arnold put his house in Haiti for sell to have money to do the work.
Vital Noel - Elder Rouck Church
Cuba update 2022
We sent money to buy bibles for many Haiti descent. They reported 75 baptisms and 80 baptisms. We have 68,000 Haitian descendants in Cuba. Some are hungry to read the word of God, . Many obeyed the gospel.
In Cuba some of the northern places have a local tradition where the preacher delivers the message sitting down. Also, if you wish to pay the preacher you have to pay him privately or the congregation will expect the preachers to share the money with them .Money is needed to help buy bibles and many Christians who are in very bag share lack of foods, medecine.We plan to go back in 2023 we need help for them .Arnold will pay his way, he needs money for the church , preachers and people. Can you please put this work in your 2023 for bibles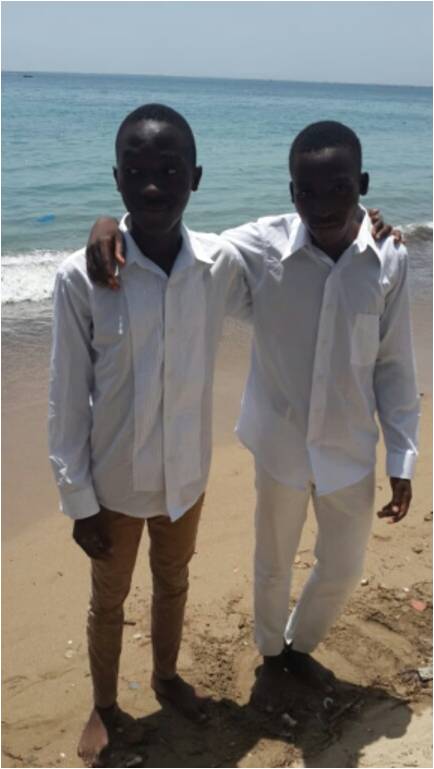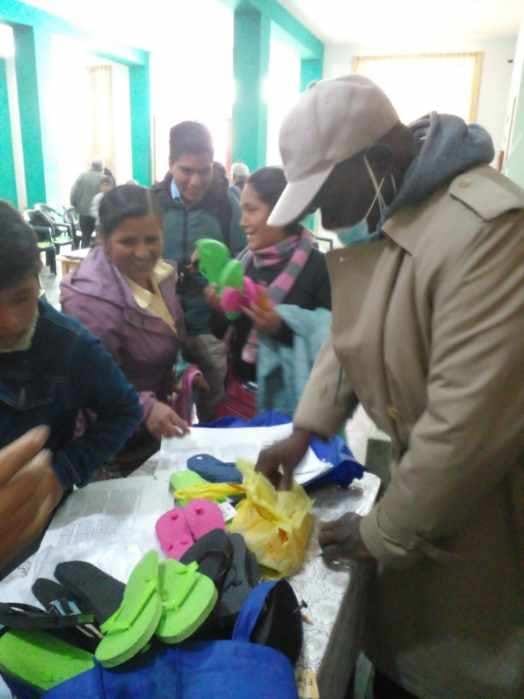 Peru ,Colombia and Panama update 2022
;Arnold went to Panama almost everyone needs a bible .Arnold (we) helped some preachers with money , bibles courses in March 2022
Colombia update 2022
Arnold went to Colombia in March 2022. We(Arnold) help several preachers with bible, bibles courses and $300.00 to each preacher
.Peru; Lima. Huamachuco update 2022 .Arnold was invited to preach at the national preacheing seminars. He paid he own way $1000 airfaire from USA plus $300 in Peru, He paid his own way with his social security check and his business he brought bibles for all the church that need bible .Arnold felt very bad he did not have enough money to buy more bibles, From Panama, Colombia and Peru and San Salvador October and December 2022 if Arnold had 5,000 were not enough for the demand.. He bought many bibles and gave money to preachers and some people ,Arnold distributed , shoes , clothes, pencils see the pictures above ..We plant to go back next year we need money to buy more bibles. Arnold felt very back he did not have enough money to buy more bibles
The Bahamas update 2022
Arnold went to the Bahamas, Oct, 2019 to help Haitians flood victims. He paid $2,500 of his own money to go. He gave $1,000 to the church to help the Haitians flood victim. He was not allowed to tell the Haitians for security reasons. From July 2021 to December 2022 we've sent $ 3,500.00 to buy bibles. , to help some Haitians who have financial problems, , to go back home and some legal and . These efforts have produced at least 50 known baptisms from last year to update base on their reported
Haiti
A terrible quake hit Haiti in 2021 created massive damaged. Thousands of homes were destroyed and many people died. even today many were not able to rebuild many Christians are in very bad shape, some lost their homes by quake , others by riots , protest., Many homes were not able to rebuild
The 2022 was a terrible year for Haiti the inflation ,many thousand people lost their jobs, their business because of insecurity. there is a great poverty. .We need help for many to rebuild we $4000 a family can build two bathroom without toilet in the village.We have many thousand Haitians that were deported from Dominican republic make the situation worse.We are pleadind for prayer and help forr haiti so far they reported 50 baptisms and 70 restorations'
What you need to know about this work in Haiti and Latin America
The difference between this work and many other works you have heard and supported. The preachers got paid to preach to hold meeting, to travel .For this work Arnold has to have money in last 30 years to give in four ways1- to pay his travel expenses, airfare, hotel transportations in some places no one own a car. 2- to give to the preachers many of them are very poor 3- to buy bibles, and help the churches some times to pay constructions work4- to help church members and people some 30 to 40 people asked Arnold for money .Arnold never received a penny from any church in Haiti and Latin America. Arnold is the only one to give .God always bless his business..Thank you to God and to all of you
.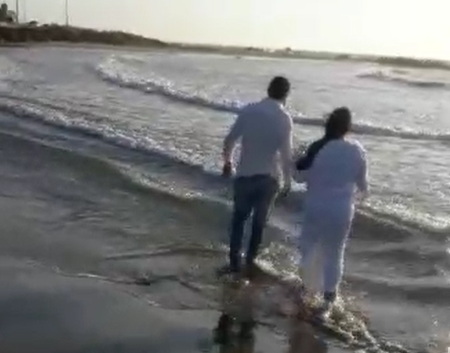 picture of baptism in catargena colombia
Arnold was shoot and wounded by robbers in 2009 when he was returning from the bank after picking up money to bury the wife of elder. In 2010 he was almost killed by the earthquake and Teresa his wife fell from the third floor to the first, which broke her leg and hand. again in 2011 he almost lost his life in front of the church by a drunk driver.
Arnold Garcon and his wife Teresa are Haitians who speaks English, French, Spanish and Creole. Arnold is a graduate from David Lipscomb University and from Tennessee State University and Emmanuel Theological Seminary. He holds a Doctorate in Ministry.

In order to minister the gospel in Haiti, Arnold has escaped many dangerous and difficulty situations. He has gone without sleep, food, has traveled many rocky roads, has been shot, and was almost in a plane crash. He is continually attacked by false teachers and so called brethren with lies because of jealousy and envy.To raise money many so called preachers and elders in mission field they had to destroy others preachers and elders sometimes they did not know and never them. matt7;12 None of this has moved Arnold because the attackers have done more to Jesus (to advance the gospel then harm) than Arnold. Arnold and Teresa survived the devastating earthquake of 2010. We did not receive a penny from any government , organization , any Haitian church, we did with love of some Christians like you and investment Arnold did for 35years. we are self supported,
we do many things to support us. like taxi driver, Farming, Investment, and construction.
Radio Programs

Many denominations are asking us for literature, bibles, and bible courses. Fortunately, they are using all this material to teach in their congregations. The radio program reached more people then ever. several hundred were baptize each year. we reach them by social media. we have in Air for 20 years, we need funds to keep us on air

Voodoo Temple Ministry

Arnold and others have gone to many voodoo temples in Haiti to distribute bibles, literature, and bible courses. It is amazing to see so many voodoo priest hungry to read the word of God. We have conducted some studies by telephone, email, and text messages. Some have been baptized and most of the people we talk to want a bible.

Haiti and Dominican Republic Border Ministry

Thousands of people go to Haiti and Dominican Republic border to a market every Monday and Friday to buy and sell, for business, voodoo rituals, and many other things. We go to distribute literature because many are looking for something to read and everyone want a bibles Some will pull from others and some will fight to get a bible. Arnold receives many calls, e-mails and next messages from these people for baptisms. If you can help us get some money for bibles or if you know any company who could help us, we would be very happy. There are three groups of people at the border; Haitians who speaks Creole, those who speaks French, and Dominicans who speak Spanish. The Creole bible is $11 the French is $7, and the Spanish is $10. If we had many thousands of bibles, it still would not be enough.
Another way that we help in this region is to help sick family members go see a doctor. We use the family relationships as a opening to preach the gospel. This work allows us to continue to build relationships and when family members get sick they come to us for help with burial arrangements. In some cases we are able to baptize them.
Attention
Unfortunately, the mission field is ripe with corruption. In our work we come across many people that should be our allies but have become enemies. As Paul experienced in I Tim 4:10 some have forsaken our work. We ask for continued prayers and God's wisdom. May God help them to remember and live by Matt 7:12 "So Whatever you wish that others would do to you, do also to them, for this is the Law and the prophets."(ESV)
COVID Update.
Thanks be to God we are safe And Covid-19 Negative! Many Haitians observers have reported infections from the virus and many have died in Haiti, Dominican Republic, and surrounding countries. We have sent donations to help many families see the Doctor and help with Burial expenses.
Exciting News
Even though the pandemic has slowed our movement, we still receive many request for bibles. We are excited by this tragedy because in moments of weakness people seek god. After the 2010 earthquake we baptized more people than we normally do. We have seen a similar trend since the beginning of Pandemic, more people are requesting the word of God. People are requesting prayers, literature, and bible studies. We THANK YOU for all the moral, spiritual, and monetary support.